April 2, 2018
Iain and Simon round up the blog posts from January 2018. You can listen to the podcast below. Links to all the blog posts mentioned are listed below.
As 2017 ends and we look forward to 2018 it's time to reflect on a year with the St.Emlyn's team. Despite our chronological and geographical dispersal it's really felt like a team effort in 2017. We have travelled, learned, listened,…
Read more
Simon Carley January 4, 2018 3 Comments Social media can sometimes give the impression that all is rosy in the world of resuscitation. We hear of the amazing saves, the wonders of ECMO, helicopters and heroic acts with great outcomes, but the reality is of course very…
Read more
[caption id="attachment_31228" align="alignleft" width="300"]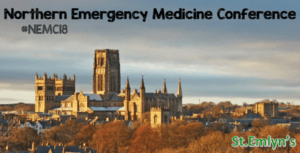 northern emergency medicine conference[/caption]
Chris Gray January 9, 2018 0 Comments It's the second time I've been to the Northern Emergency Medicine conference, this year held in the sunny city of Durham. I say sunny… I needed my jacket. Last year's programme was great and included some fantastic speakers, including our…
Read more
Janos Baombe January 12, 2018 4 Comments  Last month, I came across a clinical review published in the Annals of Emergency Medicine1 that got me really excited! It got me excited (in a geeky professional sense of course…) as it covered a topic that causes significant…
Read more
Natalie May January 16, 2018 3 Comments On Reflection I've been reflecting on reflection for some time now, at least since I started formally collecting my lessons from Sydney HEMS and probably even before that, because this sort of meta nonsense is something medical education enthusiasts like…
Read more
Richard Carden January 21, 2018 2 Comments You might be aware that an exciting new trial has started called Cryostat-2.  This is exciting as it has the potential to improve patient outcomes, but also because it will involve all the Major Trauma Centres in England and 8…
Read more
Dan Horner January 22, 2018 4 Comments So another year, another Critical Care Reviews meeting. Rob is doing an absolutely fantastic job with these, inviting lead authors from major critical care trials to present and defend their work. In fact, this is going so well that this…
Read more
Simon Carley January 28, 2018 0 Comments Last weekend, the BeSEDiM (Belgian Society of Emergency and Disaster Medicine) organised their annual symposium. It is the scientific organization of the Belgian emergency physicians with Said Idrissi as chairman. 13 years ago, Belgian Emergency medicine was born as a…
Read more
Simon Carley January 29, 2018 0 Comments This is a guest post from our good friend Stevan Bruijns aka @codingbrown Stevan has been an advocate of international emergency medicine for many years and he, like us feels that there is much that high income countries can do…
Read more
vb
S
Before you go please don't forget to…
Simon and Iain belatedly reflect on a tough winter and the posts in January.
Check out stemlynsconference.com if you want to know more about #StEmlynsLIVE
S